Providence Homes Wins Big at 2019 St Johns Builder Council Parade of Homes Banquet
August 30, 2019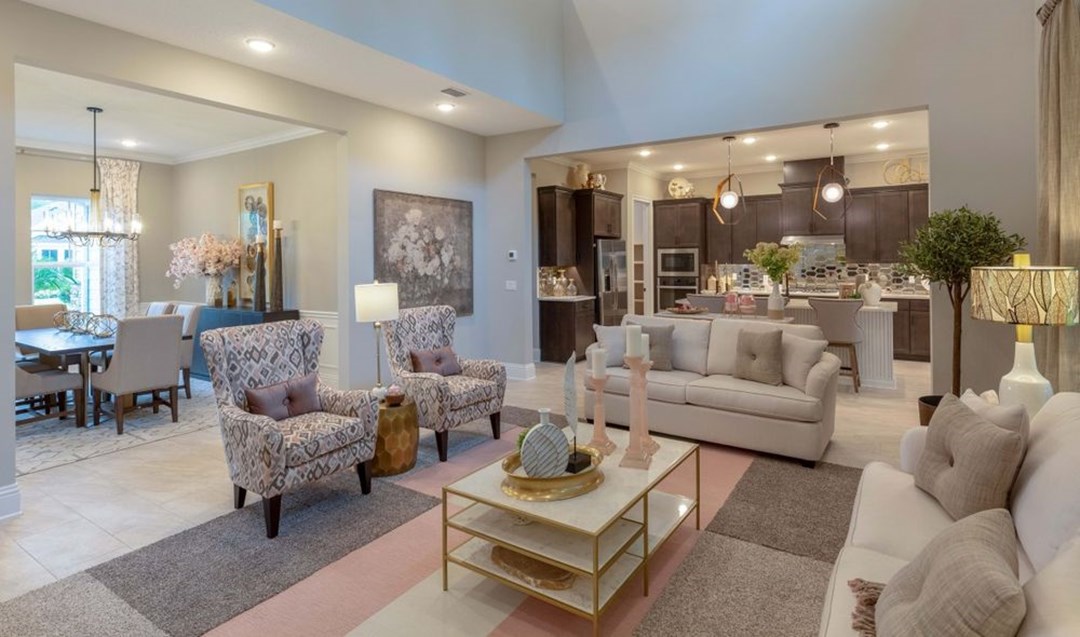 We're proud to announce that three of our model homes were recognized by the St Johns Builders Council at the 2019 Parade of Homes banquet earlier this week.
The winning model homes were The Hernando Model at Liberty Cove and The Magnolia Model at The Colony in Nocatee, The Collier Model at Markland. The Providence Homes Hancock Model Home in Oxford Estates shown above has been selected as the 2019 Showcase Home.
The Magnolia¬†Modelat¬†110 Pine Manor Drive¬†Jacksonville, FL 32081 (Nocatee) features 3,049 sq. ft 4 bedrooms,¬†4 baths, a 3-car garage, and 3,143 sq. ft. of living space¬†features Tray Ceilings in Main Living areas w/ Crown Molding, Dining Room, Family Room, Gourmet Kitchen/Caf√©, Study, and Bonus Room w/ Bath, Covered Patio, and 2-Car Garage.¬†The Magnolia received a HERS Index Rating of 55 with an estimated $111.91 per month total electric bill rating for 3,143 sqft of living space 'Äď estimated annual savings is $843.00!
The Hernando Model at 611 Vista Lake Circle in Liberty Cove Ponte Vedra, FL 32081 (Nocatee) offers 2,211 sq. ft., with 4 bedrooms, 2.5 baths, and a 2- car garage and features ceramic tile flooring in Main Living areas, spacious 1st floor owners suite, private family loft and covered patio on lakefront homesite. The Hernando received a HERS Index Rating of 57 with an estimated $105.85 per month total electric bill w/ estimated annual savings at $669.00!
The¬†Collier Model¬†at 305 Westcott Parkway St Augustine, FL 32095 offers 3,735 sqft 5 bedrooms, 4 baths, bonus room and a 3-car garage overlooking lakefront homesite and features Formal Dining, Study, Family Room, Gourmet Kitchen/Caf√©, Bonus Room √ź/ Bath, Covered Patio, and 3 Car Courtyard Garage. 52 HERS Index Rating w/ estimated $130.41 monthly electric bill – $1,095.00 estimated annual savings.
The Hancock Modellocated at 167 Oxbridge Way, St Johns, FL 32259 is a spacious 5 bedroom, 3.5 bath home combines luxury, quality and ingenious design with our unparalleled level of energy efficiency. The 2-story model features a 3-car garage, 1s t floor owners' suite, formal dining room, study, kitchen & café, family room w/ 20' volume ceilings, private family loft and a covered patio on a conservation home site. The Hancock is also being offered in Nocatee and Oxford Estates.
All Providence Homes are 100% ENERGY STAR¬ģ Certified with conditioned attics using spray foam insulation and 16 SEER HVAC systems. 'ÄúAs-Built'ÄĚ HERS¬ģ Index Ratings are available at each model.
The 2019 St Johns County Builders Council Parade of Homes is from 31 August thru 15 Sept. All four Providence Homes model homes are open daily Monday thru Thursday and Saturday from 10AM-6PM and Friday & Sunday from 12-6PM. Call 904-567-9564 for more details or additional information.