Customer Testimonials
Testimonials
Our happy homeowners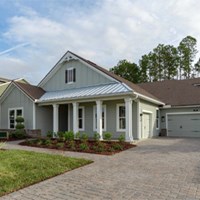 The Arena's
Nocatee
I just wanted to reach out and thank you again for all your help with the property. We're moved in and almost done setting up, and are looking forward to the years we'll spend here raising the little ones. Before buying our house, we performed a lot of research on other quality builders, and Providence Homes definitely comes out on top. They offer better standard features, and their team is a pleasure to work with

Cheryl Hall was the Providence Realtor we worked with and I can't say enough about how responsive, professional, flexible, and understanding she was throughout the process. Everyone we worked with was proud of their work, and for good reason. Between the showing, walkthrough, inspection, punch list, and warranty department, there are a lot of moving pieces, but the whole process was simple and painless.  
Among companies who say they put the customer first, Providence Homes makes that statement palpable. The quality of the house itself is superb, and the support we have had while moving in has been wonderful. 
Jimmy, Tara, and Cheryl, thank you for helping us make this house a home.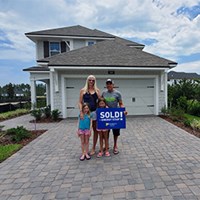 Siracusa Family
Nocatee
Kenny did our one year inspection and was very thorough on making sure our home was completed and took care of our issues in a professional manner. He helped coordinate all the different trades together to complete their tasks efficiently and in a timely matter. I also witnessed Kenny at another home taking care of a Providence homeowner with the same courteous behavior. He is truly an asset to your company and I am glad our family has purchased a providence home with Kenny as our supervisor.
Thank you,
The Siracusa Family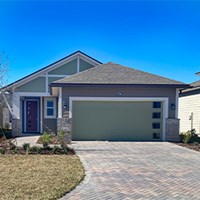 The Banker's
Kettering at eTown
I just want to take a minute to tell you what an amazing experience we have had so far during the building process with Providence Homes.
It started with Brenda at Kettering. She was so knowledgeable and extremely helpful. She made the process of finally deciding on a new home easy. We had been looking for months and talked to many builders. Brenda was the only one that truly made us comfortable and walked us through the first part while being able to distinguish exactly what we were looking for. When we found Brenda we knew we found a home.
Our next meeting was with Kelly. We couldn't have been happier with her help and the way she was patient in explaining and walking us through the process of something we knew absolutely nothing about.  She really made my wife's anxiety over the whole building process go away. All the things that we had been worried about were addressed in a friendly manner that made it really easy for us to make the right decisions for our family.
The design meeting with Soucki was awesome. She helped us make all the hard decisions that we didn't know we would have to make. Her ability to recognize what we were trying to accomplish and the manner in which she helped us get exactly what we wanted out of our home was outstanding.  There is no way we would be feeling as happy as we are without her. We know that when we move into our house it's going to be perfect because she helped us accomplish our vision. She is simply amazing!
The trip to your Stewart lighting was also great. Brad helped us pull all our lighting selections together and turned an appointment we were worried about into a process that left us feeling extremely satisfied. Your partner companies left us feeling like they were part of the same awesome experience.
We couldn't be happier with the customer service and knowledge of every single one of your staff and couldn't imagine building a home with anyone else.
In short,
Thank you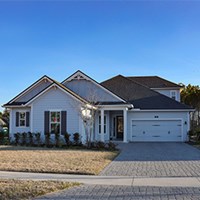 The O'Donnell's
Nocatee
…We have built with other builders prior to building with Providence Homes, and this has been hands down the best experience we've had! 
Thank you so much!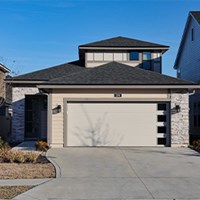 The McGlinchey's
Nocatee
We had a very positive experience working with the Providence Design Center team. It was clear from the first appointment that they were there just to help with our selections, and not steer us toward a lot of upgrades. There was never any pressure. That was definitely a change from other builders we have worked with. 
Kelly, specifically, knew our floorplan well, including areas that could be enhanced. Her walkthrough of the plans was very helpful & its importance should not be understated. She is very committed to her role at Providence, and really seems to take a personal interest in each buyer and their specific needs. 
Lastly, the customer service, integrity, plus being a Jacksonville builder, was a key reason for choosing Providence.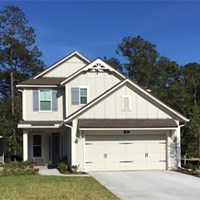 Jeff and Liz Stoddard
Nocatee
First let me say thank you for all you did to help us find our dream home here in Nocatee. You treated us with kindness and dedication to helping us find the exact home we were looking for. From the first meeting to signing the contract, you went above and beyond in our home buying experience. You went the extra mile to ensure that we felt comfortable in our decision. Looking back, it was such a fun and exciting experience.
Thank you for all that you did for our family.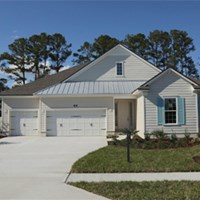 Rob & Linda Jodrie
Markland
My husband and I would like to share our experience with you regarding the warranty process from the time we purchased the home until the one year warranty period ended. I will say that I am not one to give easy praise when not deserved, so for me to write this testimonial means that Providence Homes warranty department has gone above and beyond my expectations. I have purchased other homes that were new builds over the years and have never had service like this before.
We were met with a pleasant and professional warranty supervisor, Kristy Bell. She explained the entire process to us and went thru each room and in detail explained how to maintain, care for, and clean appliances, floors, AC unit maintenance etc. She has a whole packet put together for us so we can refer back to all of the various parts of our home should it be windows, counter tops, tile grout and more. It was very thorough and she answered all questions that we presented her as well.
We then went thru the home to see if we had any issues presently and then she stated that we again would review this at the end of the first year. We had a few minor issues such as touch ups in the paint, nail pops, a failed seal in one window and cabinet door damage. She lined all of the subcontractors up for us and we had all of the issues addressed in a timely fashion and around my work schedule. Each subcontractor was professional and respectful of my home by being careful not to hit walls with equipment they were bringing in and to use shoe covers over there boots or to remove them without being asked to do so. That was very appreciated as I stated before that I can be a person who is picky and I pay a lot of attention to detail. This is also why I enjoyed working with Kristy, as she understood how I was and made sure all work was done to both of our satisfactions.
For the year warranty inspection, Kristy again not only was on time, but early for the appointment. She and I went over a few more minor finds over the year and each and every one was addressed and repaired. Kristy also was here to meet with the subcontractors and directed them to the various jobs to be done. She kept excellent notes so she was prepared to instruct them what I wanted to be fixed. I was happy that I did not have to look their job over as she did and pointed out that some needed a little more attention before completion. I was also impressed that a few subcontractors showed me a couple of things that I did not notice and said that they would also repair that. (One was a roof shingle issue that they came back to do and another was a cracked cabinet door).
Kristy kept us up to date on when people would come out for the repairs via email. She also gave us her number if we had any questions or concerns. Kristy is an extremely professional warranty supervisor, who is also polite, respectful and personable. She has done an exceptional job in helping us get the repairs done and she represents the Providence Homes Warranty Department with great pride.
We have enjoyed this experience and would be happy to speak with any potential buyers to share our thoughts both on the great build, energy efficient home and the excellent staff in the warranty department that supports the builder.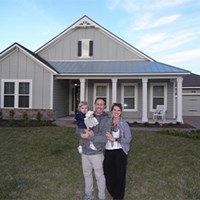 Christine and Zane Green
Nocatee
We wanted to report on the wonderful service we received from Robin in the design center. She was easy to work with, helpful when some issues came up after visiting the design center, and all around just a wonderful person!
We wanted to let you know what an exemplary experience we had with Adam as our Superintendent. He was always punctual in returning emails, thorough in his explanations, and we loved the fact that he sent weekly updates. Specifically sending pictures of anything new that happened within the home. He was always willing to meet us at the house if we had questions about anything and he was an all-around pleasure to work with.
Respectful, sincere and competent in his knowledge of the entire home experience. We would recommend Adam and Providence to anyone who inquires.
Thank you and have a wonderful Holiday.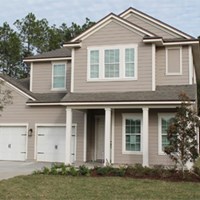 Miranda Donohoe
Nocatee
"Erik was a great Realtor to work with. He was very kind and professional throughout the whole process. He was never pushy but always eager to give us helpful information and answer our many questions. He provided us regularly with updates and went over and beyond what we had expected him to do. Overall it was a true joy to work with Erik and the whole Providence team!"
Sincerely,
Miranda Donohoe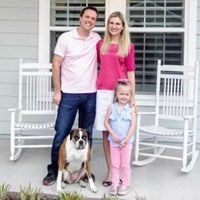 Rob and Krissy Kinker
Nocatee
Hi Providence Homes Team,
As the customer of any type of service work, rarely do we customers deal with folks that do everything right. In fact, I think most people's customer service experiences border on the edge of mediocrity. But we found someone who finally bucked the trend. What a refreshing delight it was to work with Kristy Bell in the Providence Homes warranty department.
Aside from her kindness, ability to relate to our needs, and empathy, Kristy was perhaps the most knowledgeable, jack-of-all-trades tradesperson I've ever met. Not only has she seen it all, but there's a good chance she's done it too. Her passion for the industry and eagerness to constantly learn more manifests in a superb combination of customer service and get-it-done-right attitude.
In an OCD household like ours, Kristy was keenly aware of what needed to be done, how to handle it, and how to somehow keep things tidy throughout the process.
Kristy also has a wonderful attitude & disposition that can seemingly mesh with all people and personalities - from the demanding customer to every type of tradesperson with whom she works, Kristy develops a relationship of mutual respect that encourages great results and customer happiness.
She follows-through on everything, addresses warrantable flaws the customer may not have seen, and somehow manages to do it all with a genuine smile. Kristy cares about her work, she cares about her customers, and she cares about her company. She is nothing short of the consummate home warranty professional.
Shifting gears a bit, we also have had a wonderful experience interfacing with Nova Taylor. Nova responded promptly to all our emails and requests for information. She confirmed that appointments were set and when each tradesperson was scheduled to be in our home, and I could tell that she treats Kristy Bell the way any good employee should be treated: with respect. I also appreciate that Nova may have OCD as bad as me. In a role like hers, attention to the tiniest details are imperative, and it's apparent that Nova does it quite well.
Best Regards,
Rob & Krissy Kinker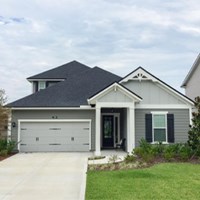 Chris Eder
Nocatee
To whom it may concern,
I would like to take a few minutes and share my amazing experience buying a home from Providence Homes. More specifically, my interactions with Erik Head and Jack Dycus.
By the time we made it to Providence Homes and spoke with Erik Head, my wife and I had already visited Nocatee three times and had talked with dozens of agents and had seen at least 50 different houses. We thought there was nothing new to learn about homes or Nocatee. Well...that was not the case. Erik Head welcomed us as if we were family right from the start. He was clear not only did he know everything about Providence Homes, but he was 100% certain there was no better home for us. Within minutes, my wife and I knew we were going to buy a Providence Home...but which one? Erik spent time with us asking questions about what are needs were. It didn't take long before he took us to a house being built that fit our needs. It was perfect.
If there is one thing that is more stressful than buying a home...it would be buying a home when you live 12 hours away. I'm pretty certain we asked in the neighborhood of 300 questions of Erik. Each time...without fail, he answered our questions and calmed our concerns. Every time we visited Nocatee, Erik made time to meet with us and catch us up on what was happening with our home. I would go as far as saying Erik was as knowledgeable about the talking points of Providence Homes as he is with the construction and construction phases of the homes.
Erik made the entire home buying process enjoyable. If I had the money...I would buy another home from Erik. Since I don't I plan to send all of my friends to him.
Jack Dycus continued where Erik left off. Not sure if we were the first family he did an initial plans review with over the phone or not...but we couldn't tell. Every time Jack called us to update us on the construction status, he made sure we understood what everything meant and took the time to answer all of our questions. By the third phone call I felt Jack was more like a family member checking in on my house and sharing the information, than an employee being paid to do so.
Jack made it clear from day one that if there was something he wouldn't like in his own house...then it wouldn't be good enough for our house. Jack met us at our home every time we flew down from Maryland. Each time he updated us on the status and what was next. During the final walk through he assured us the items we identified as needing fixed...would be in fact fixed by closing. Additionally, his knowledge and experience really helped when he walked us through the house and explained how everything worked.
By the end...I really felt as if Jack would at my house once we moved in with a welcome to the neighborhood gift...at the very least he would be a regular friend who would come over and help us with any 'construction' type things.
In short...my wife and I can't imagine buying a home with any other builder.
Thanks.
Chris Eder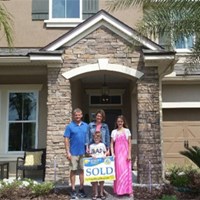 David and Elise Thornton
Nocatee - Greenleaf Village
To whom it may concern,
In my professional career, I have spent 15 years working with the building science community. I understand the elements that make a home energy efficient. When my wife and I begin looking for a builder to build our home in the Jacksonville area, finding a builder who built to energy star standards was a priority. A home built to Energy Star standards is not only energy efficient; it possesses a healthy living environment that creates a more comfortable home. We invested a lot of time in researching area builders and visiting models. From the moment we walked into the Providence model, we could feel the difference. The home felt different. There was a consistent temperature throughout, the quiet environment of the home was noticeable, and I did not feel the sun's radiant heat coming through the windows. These are all characteristics of an Energy star, healthy home.
We have not been disappointed in our purchase of a Providence Home. It possesses the qualities of energy efficiency and is a healthy indoor living environment. Our home is healthy, comfortable, quiet, and energy efficient. It is the largest home we have ever owned but our monthly energy bill is the lowest we have ever had. Thank you Providence Homes for building us an Energy Star Home!
David and Elise Thornton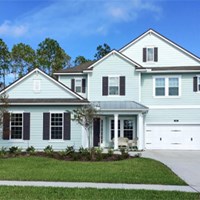 Danny and Jennifer Triepke
The Outlook in Nocatee
Dear Providence homes,
Now that my wife and I have somewhat settled into our new home after closing on July 14th, we wanted to take a moment to send you a special note about our experience, specifically in relation to our service from an outstanding individual Adam Pogachnik (Construction Superintendent), whom oversaw the construction of our new home.
Let me start with, this was not our first new home construction, but it was very different in MANY ways than my first experience, especially with the fact that my wife was in New Jersey, while I was here in Florida.
This feedback also comes with a lot of information and dialog with people in the Outlook and the Crossings feedback. It is very very clear that the experiences of new home buyers have little to do with the company (Cal-Atlantic/ICI/David Weekly/Providence) and a TON more to do with the hands on experience of building the home, and that comes down to the Construction Superintendent. In our specific case, we had an absolutely overwhelmingly positive experience building our home with Providence, and I'm certain that had 60-70% to do with working with Adam, and I will give the rest of the credit to the design staff whom were also great with us, and the Sales team whom always helped us with whatever questions we had.
Engagement: Adam made us feel like we were an integral part of the construction process, this started with the in depth walkthrough, and the feeling he gave us that we could contact him about/ask him about anything.
This continued with the "Monday morning update" - where we would get pictures every week of what was 'new' with the house, and a 'trades update' as to what we could expect that week. (Especially for Jennifer, being out of state, this made her feel much more connected to the new home construction process)
Since I was living in Jax, I had the opportunity to stop and see the house almost weekly, and I had plenty of questions that Adam had no issue with getting back to me promptly with responses.
When it came time for the walkthrough, no item we had a concern with was overlooked.
And once we were ready to close Adam very promptly took care of the "closing list" items.
Throughout the entire process, we knew what to expect and when to expect it. Key to good customer service is communication, and Adam has a great communication plan that he executed to perfection.
If anyone asks us who our builder was, we very proudly say Providence Homes! And whenever I see someone at the model, I always tell them to request Adam as their Job Super and they won't be disappointed!
One point of constructive feedback I would give is Adam knew I was not happy with the Listello in both Bath 2 and 3, bath 3 was taken care of perfectly, bath 2 was improved, but it wasn't the quality it should have been. That item is now on my Warrantee list, and I really wish he had taken action to get it rectified before closing. But in the grand scheme of things, for only one item to be not right in the delivery of a home this size, I consider it to be a minor blemish on an otherwise perfect experience.
So in closing, Adam was great, and made our experience of buying with Providence Homes a very good one.
Best Regards,
Danny and Jennifer Triepke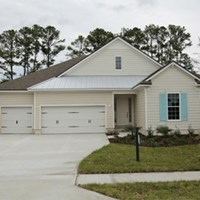 Mary Higginbotham
Markland
To whom it may concern,
I just wanted to take the time to say Thank You to your staff for making my recent sales experience with Linda and Rob Jodrie such a pleasant one. From the beginning, Gen O'Dell was very helpful and willing to stay late to write up their offer the Saturday before Easter. She's was great communicating with my Buyers throughout the sale as well. Our biggest surprise was when the offer was accepted on Easter Sunday afternoon by Providence's management.
I also want to compliment Adam Pogachnik who did a great job during the initial orientation (walk-thru) with the Jodrie's and me as well as the final one with me alone since they could not attend just before closing. Adam seems to really love what he does and working for Providence...it shows in his knowledge and enthusiasm with the customers.
All in all, after a year of diligently searching for the perfect home for Linda and Rob, I believe we found it and they will be extremely happy with their new home in Markland. Needless to say, the quality of the construction of the home and end result speaks for itself.
Thank you again.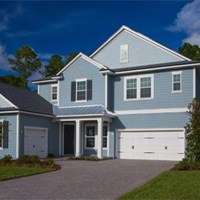 Bryan and Jennifer Thompson
The Grove at Twenty Mile Village
Apologizes for the delay in sending this note out, especially after we closed a month ago, but wanted to send a big thank you and express how grateful both Jennifer and I are to you both as well as the entire Providence team (I know there are a lot of folks that make this happen more than you both).
As you fully know that building a new home is a stressful experience and you both made that journey a great experience, especially considering it was our first home that we built.
Erik, we really appreciate the constant communications, updates and special touches such as sending photos during the build process while we were still in CT. You made this process less stressful from the very beginning (from the time we explored the lot and model back in April), until the end. We also really appreciate the card and gift!
Brandon, you made the building process less stressful from the very beginning, from the time we our first walk-through until the final walk-through. We really appreciate everything you did to make the home beautiful.
Thank you for everything! And please send our fondest appreciation to everyone else on the Providence team!
Regards,
Bryan and Jennifer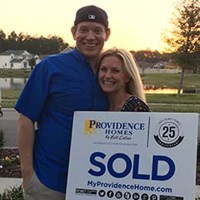 Warren & O'Regan
Heritage Trace
To whom it may concern,
I just wanted to drop a quick note to say thanks to Kenny Patterson and the Providence team for coordinating our repair work. I appreciate the efforts and coordination in getting everyone there on time and having them complete the work.
Best Regards,
Chris Warren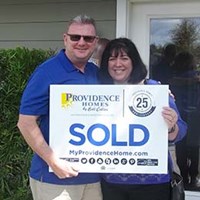 Debbie & James Wyrick
Timberland Ridge
Please find the attached testimonial for Kelly Hicks. We are most grateful for the time, energy and attention to detail she provided.
We did a lot of research before choosing Providence Builders to build our new home in Timberland Ridge. We had a rough idea of what we wanted but the options were unlimited and we wanted to make sure we made the right decisions for our lifestyle and budget. We had the good fortune to work with Kelly Hicks who walked us through all of the options with much patience as we debated which options we wanted to choose. She lent her experience in guiding us after listening to our grand plan and helped us to customize the options to suit us. We were especially in need of help of designing a bathroom that would be accessible for aging parents so that it would feel comfortable but functional. Kelly was able to obtain numerous quotes for our requests and help us stay within our budget.
We could not be happier with the choices we made with Kelly's assistance and highly recommend her to any prospective home buyer.
Kind regards,
Debbie & James Wyrick
Timberland Ridge/Nocatee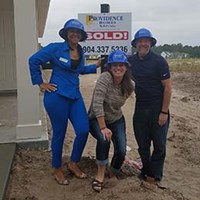 Chris Fleming
Trailmark
Good morning.
I want to take a moment to recognize the professionalism and kindness that I have received from Kristy and the trade experts concerning our one-year warranty issues. When my wife and I first moved in a year ago, we had a couple of issues that needed attention and Kristy came right out and answered our questions and made sure we had the right people come out for the work. She was very knowledgeable and took care of it quickly.
Once we had our one-year time come up, she came out and took a look at all of the areas and was able to get us scheduled that same day. We had the different trades show up and get all of the items done in a consecutive 2-day span. Kristy stayed throughout the day to ensure that the job was finished correctly and within a timely manner as to not be an inconvenience. Overall, I am extremely happy with Kristy and the workers that got the job done. Kristy also called to make sure that I was happy with everything, and she is just an absolute pleasure to talk to.
Thank you so much and have a great day.
Chris Fleming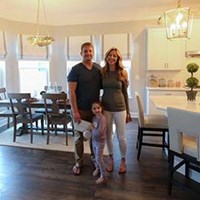 Greg Penn
Twenty Mile Village
To whom it may concern:
Jack our construction manager made our home buying experience a great experience. He is very nice and thorough and takes his time with myself and my wife. We purchased 64 Valley Grove Drive in Twenty Mile Lot 216 and we love our home. Jack has gone above and beyond and never makes it seem like were bothering him. I needed his help in pointing out the main water line to a plumber installing our water softener and he came right over in minutes saving us a lot of money and heart ache. He always makes us feel important and we aren't ever rushed to spit out what we need.
Our home has been great quality and Jack has even stopped by to check on us from time to time. We would definitely recommend Providence homes to our friends and have. Kyle Preis is now building with you all because of your great service. He is currently under contract in Markland. We wanted to reach out and let someone know that Jack deserves a pat on the back for the service he provided.
Respectfully,
Greg Penn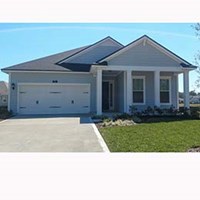 Stephen Swain
The Crossing
Dear Providence Homes,
I just wanted to tell you what an incredible job Kristy Bell did with our warranty work. She was always on time for appointments and was easy to get in touch with. She made sure everything was done and stayed with the workers while they were doing the work. I'm extremely busy and couldn't always be there myself. She always was positive and answered all our questions. I couldn't have asked for a better warranty advisor.
Our house we built has been a wonderful experience and Kristy and Jack are first class. We love our Providence home.
Stephen Swain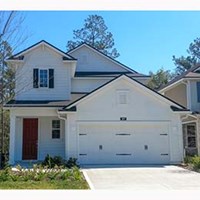 The Fluds
The Crossing
To whom it may concern,
Kenny Patterson did a wonderful job for all our warranty needs this past year! Our initial walk through last year was seamless and he did a great job explaining everything to us. We just finished our one year warranty claim and he more than helped us with each problem we had in the home. Every contractor was nice, professional and fixed each of the claims we submitted.
Thank you Kenny & Providence…we are very thankful for our beautiful home!
Warm Regards,
The Flud Family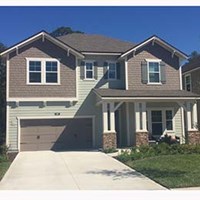 Rhea Hufalar
The Crossing
Hi Erik,
I wanted to let you know how grateful we are for helping us find our home. I still can't quite believe that we have a home in Nocatee. We consider ourselves extremely lucky to have met you and how patient you were in showing us home after home in the pelting rain before Hurricane Matthew landed. How many people can actually say that they closed on their vacation home on the eve of a hurricane making landfall!
Thank you for answering all our questions and listening in order tailor the house to our needs. We also appreciate your patience in signing all the documents with two kids running around in your office. We actually hadn't expected to find our house that day but the more we research Nocatee the more we consider ourselves so very lucky to have gotten a home there. We will be there right after Christmas until the first week of January and I'll be in touch.
Have a great holiday with your family
Sincerely
Rhea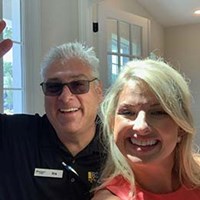 Allison Chance
The Colony at Nocatee
As a REALTOR®, I only want the best for my customers. Ira with Providence Homes is a true team player and gets the job done. He is professional, communicates well and has the best interest of his potential customers in mind. If you are looking to build a Providence home, you must talk to Ira!
Allison Chance – REALTOR®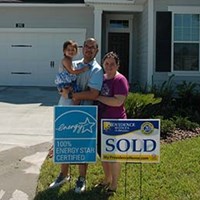 Edmun & Elizabeth Domingo
Yellow Bluff Landing
To whom it may concern,
"Living in Florida where the summers are always hot, we are accustomed to having high electric bills (sometimes as high as two car payments). When we decided to sell we wanted to make sure our next home was more energy efficient. In doing our research and visiting many different builders, we decided that owning an Energy Star home was the wisest choice for us. We are so excited about our decision to build a new Energy Star home and can't wait to move in."
Edmun & Elizabeth Domingo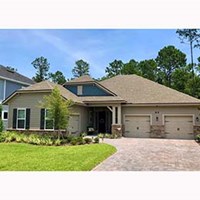 Jim and Kathy McGuire
The Outlook at Nocatee
To whom it may concern,
We want to say how much we appreciate the effort, knowledge and swiftness of all our warranty issues handled by the warranty department and especially Kenny Patterson.
Kenny meets for appointments, handles issues and gets things done in an amazing way. He far met our expectations. We are very grateful how he managed our home.
Thank you,
Jim and Kathy McGuire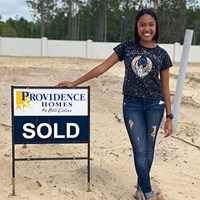 Alexia Reese
Kettering
I wanted to take a quick minute to recognize the amazing work of Brenda, Mikey and Kristy. Being a first-time homebuyer, the thought of buying let alone building a home was nerve racking and overwhelming.
From my first meeting with Brenda walking through the model of my future home, I knew I was in good hands. I know I can always reach out to her or drop into the office with any question and she will go above and beyond to provide me with what I need.
Mikey was nothing short of amazing! He is very organized, detail-oriented and would keep me updated on the progress of my home regularly. I have no doubt that a big reason as to why I'm so grateful and elated with the outcome of my home is because of his hard work.
A grey area for me prior to building a home was warranty. But after meeting with Kristy I was more than prepared and knowledgeable. She is also someone I know I can easily call on when needing assistance.
There is so much more that I could say about this amazing team. I truly am so great for each of them guiding my along the way. Going forward I know how fulfilling the home building process can be because of them and everyone I've had the pleasure of working with at Providence Homes.
Thanks!
Alexia Reese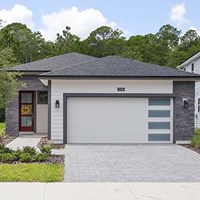 Vicki Langlois
Kettering
I can't say enough about Jason Heirs and his crews. Everything was always cleaned up at the house and on the construction sites. Any problems were resolved quickly and done right. Not being from the area and not sure to ask for suggestions for work that I would like to do they were very helpful in some suggestions.
Thank you for hiring professionals to build your homes. Just wish I could have had the option for a concrete home especially having been from South Florida.
Vicki Langlois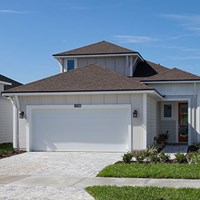 Diana Newlyn
Kettering
We just closed on our home built by Providence Homes. We are extremely happy with our experience! Cheryl Hall and our superintendent Keegan were amazing! Very responsive and willing to help!
We would highly recommend Providence Homes!
Diana Newlyn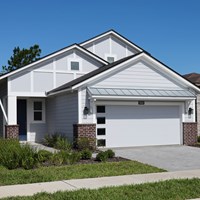 Nkiruka Ali
Kettering
It was an awesome experience with Kelly on the process of purchasing my new home with Providence Homes. As soon as I sat down with her, I knew it was going to be good, as she was professional and easy to talk to.
Thank you, Miss Kelly!
Nkiruka Ali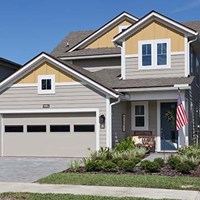 Jeannine Gore
Gore
We highly recommend Providence Homes! We can't say enough about the entire experience. It began with Cheryl Hall showing us this home during the drywall stage. She had so much knowledge to share with us and answered any questions we had with professionalism and honestly. I feel like we created a friendship as she still continues to help with whatever we ask of her and some questions not even related to our house. She was wonderful to work with!
Next, we have Jimmy Littleton, our project supervisor. He was great! He went through our house with us showing and educating us with everything we needed to know. He answered any questions professionally and quickly. He continually remained on the job until completion. He also came to us if we had any questions for him.
Our entire homebuilding experience was outstanding!
Thank you, Providence Homes for building us a quality, efficient, beautiful home. We give you 5 stars!
Jeannine Gore🤗
Tonuzi
Kettering
Dear Providence Homes
I recently build a house with Providence and working with Jimmy has been a joy. I was reluctant at first to build a house because of the stories you hear from other people. I never had that experience. I made a lot of changes to the design of the house, some custom, and Jimmy walked me through it step by step. He even noticed something I had missing in the design meeting and let me know. Every question I had he answered in a timely manner no matter how little or stupid it could have been.
Owning a house for the first time it was a change for me and during orientation he walked me over everything and gave me some tips to help maintain them longer. Even now that I moved in I feel like I can ask him questions.
Thank you,
Ari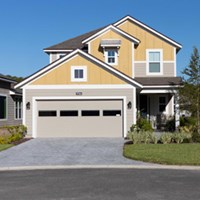 Zahir
Kettering
Hello,
I would like to take a moment to express my appreciation for the building and purchase process of my new home in Kettering (Etown). I met Cheryl a year before actually putting in an offer and she has been a pleasure to work with from day one. She has been most helpful and informative. She knew exactly what we were looking for and guided us to our dream home. I cannot praise her enough. Not only Cheryl but our construction superintendent, Jason, was very accommodating and helpful. His expertise definitely helped us in our decision-making process. Given how busy he was, he always made time for us and made us feel like we are the only customers. Both Jason and Cheryl were prompt with their responses and always provided white glove service. We are very happy and grateful for them both.
Thank you to the entire Providence team! Will definitely refer friends & family!
Regards,
Sapeda Zahir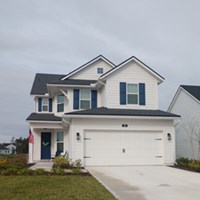 Sara Riner
Liberty Cove
We had a wonderful experience building with Providence in Nocatee. Although certain aspects took longer than usual (mainly permits), and there were a few minor mistakes, everything went really smoothly and were so pleased with our finished home. Erik Head in the office, Jason Heirs supervising construction, and the whole design team were phenomenal to work with. They always answered our questions promptly, were very professional and honest about concerns, and in general fun to work with!
I would recommend Providence to anyone looking to build in the area. Every step of the way was first-rate quality.
Sara Riner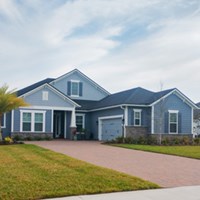 Muskett
The Outlook
To Whom it may concern,
I'm writing with regards to our warranty service manager, Kristy Bell. My husband and I have built homes in the past and worked with many building professionals. Kristy has exceeded all of our expectations and created a wonderful bridge between the Providence builder and buyer. She has been courteous, professional, highly knowledgeable, punctual, organized, thorough and had amazing communication with us. We just wanted to share our very positive experience with Kristy Bell and Providence.
We are beyond pleased with our new home and that was with the helping hands of Kristy.
Warm regards,
Misty & Ted Muskett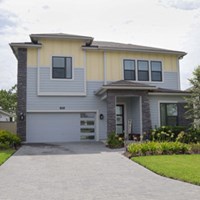 Shafer
Kettering
We are new to the area and had heard all the horror stories from people buying at this time. We looked at a few other houses before we decided to take a look at Providence Homes. Cheryl Hall was absolutely amazing and such a breath of sunshine! She showed us two homes and gave us honest opinions and expectations. The buying/closing process was 1000% easier because of her help and communication. I would absolutely recommend looking into Providence Homes. All the ladies in the office are so sweet. You will be in good hands!
Maddie Shafer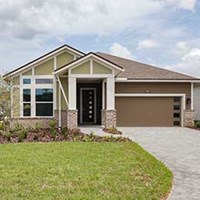 Ron and Sherry Premuroso
Kettering
Since we recently arrived in Jacksonville a week before our closing for our new Providence home, Kyle has been there for us every step of the way. He promptly returned phone calls, text messages and emails which alleviated our stress load. He was always professional and courteous and a pleasure to work with. He continues to help us post-closing to get the outstanding punch list items resolved.
We really appreciate Kyle!
Ron and Sherry Premuroso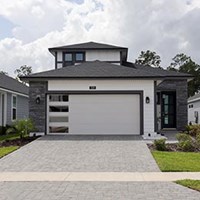 Luiz Berriel
West End
My name is Luiz Berriel and I am having a home built at West End at Town Center in Nocatee…I am writing this email to you because I wanted to make sure that BRANDON FAULKNER gets recognition for being the epitome of a professional. He keeps my informed daily with a synopsis of what is currently happening and sends pictures, he replies to emails immediately and he makes us feel that he is not just building another home for a buyer. Since our builders meeting together, BRANDON FAULKNER made us instantly feel that we made the best choice in selecting Providence Homes as our builder.
Please forward this to the proper person so he can receive positive recognition for being above the standard and going beyond what was expected!
Very Respectfully,
Luiz Berriel