New SucraSeal® spray foam insulation saves money – and the environment!
March 11, 2014
Providence Homes is excited to announce that we are using SucraSeal® polyurethane spray foam insulation under the roof decks of all of our new Aspiration & Pinnacle Collection Homes.  This new spray foam will provide our homeowners with years of quiet enjoyment, consistent comfort, superior energy savings, and a greener insulation alternative.
SucraSeal® is a safe, environmentally-friendly sucrose-based spray foam insulation that is fast becoming the choice of more and more homeowners nationwide. It effectively seals a home's energy-robbing ceiling cracks and crevices by expanding to 120 times its sprayed-on mass, creating a tight, quiet, and comfortable energy efficient envelope. SucraSeal® provides the same insulation qualities of refrigerators and insulated coolers, helping to keep the desired temperature inside your home efficiently optimized, while saving you money on your utility bills.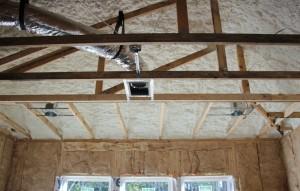 SucraSeal® meets the USDA's BioPreferred® program qualifications and has been awarded Energy Star® certification. This unique spray foam won't shrink or settle, features a high R-value, and is VOC and formaldehyde free, and virtually odorless.
The new Monroe Model Home in Greenleaf Village at Nocatee is Providence Homes first ever model home featuring this new application, and the results are incredible! The Monroe received a 53 HERS Index score making it our most energy efficient Providence Model Home ever built! The estimated $139.00 per month total electric bill rating for a 4,198 sq ft home is further proof that a true luxury home can now be energy efficient!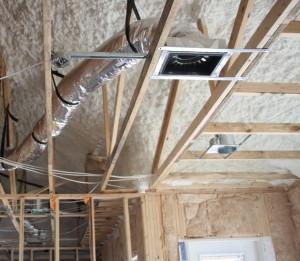 Other advantages of using SucraSeal®:
Mutes excessive outside noise more effectively than other insulation types
Contains the highest bio-content in the industry which means less petroleum based content
It has built-in fire retardant properties that other foam insulations don't, and it passes rigorous industry tests
Improved indoor air quality-less dust and allergens
Reduced air and humidity infiltration
Formaldehyde free